Last night's Wolf & Dulci Hour ended with the best super duper passcode for our exclusive freebie content yet (although I'm certain Wolf will disagree with that statement). If you missed the show, the
download is now available here
, and once you hear the passcode, just email it to wolfzone@wolfzone.org for your own copy of: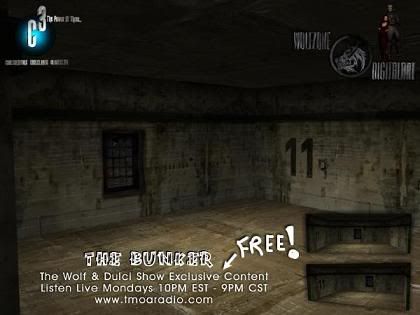 As promised, we had lengthy discussions on:
iCar . This content pack was used in the promo video for our show this week.
Wolf explains how he used Sketchup to make the crash scene shown here:
3D Blocks & how to use them to make your own props, sets & creatures in iClone
Stump the Wolf this week led us to using AML helpers and the doors, walls, etc. provided as standard in iClone with imported props
My own special narration of The Three Little Pigs

I won't be around for next week's show, but I'm certain that Wolf will make the evening eventful for our listeners!
As always, a huge thank you to the man behind the curtain at TMOA radio, Mr. Ken, for putting up with our nonsense before, during, and after the show, and for making the downloads available so quickly.
Thanks for your continued support (especially those of you who wander into the chatroom during the show and keep us on our toes)!